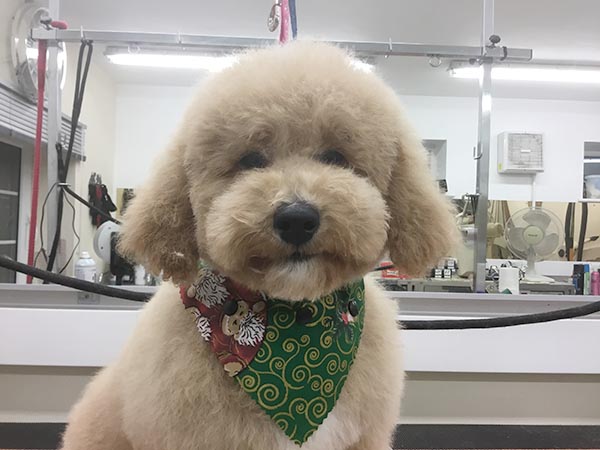 We've got a range of dog grooming services
to make your pet look fabulous in Grantham
It is the responsibility of owners to ensure their dog's coat is maintained at home in between salon visits & ensure timely scheduling of salon visits in order to prevent coat issues arising. We recommend puppy grooming should start as soon as their vaccination program is completed.
New Customer/First Visit Groom & Health Consultancy

Identify and discuss the best style for your dog and your lifestyle, any health issue or behavioural issues that may have to be taken into account.

Full Groom

(shampoo, rinse, blow dry, and clipping/cutting to owner requirement, 5 minutes maximum combing out), nail cut and ear clean, feet and pads.

In Between Scheduled Groom

Bath and freshen up, nail cut and ear clean.

Ear Plucking

If required/requested (regular groom appointments only and providing tolerance to the procedure).

Ad-hoc Nail Cutting

Nail cutting, hygiene trims, feet and pads.

Elderly Dogs

Due to inability to stand for long periods, arthritis etc; some elderly dogs may benefit from a split appointment. It is also important to reduce the amount of work required within a groom by ensuring regular visits to prevent coat build up & keep work and grooming time to a minimum for these dogs.

Anal Glands

Under new guidance from the Pet Industry Federation (June 2015) groomers can only undertake anal gland expression on production of a veterinary letter, (i.e your vet should have reviewed your dog's anal gland first to ensure there is not a medical or physical problem that may be compounded or aggravated on emptying by a groomer).
What we won't do....
As we are guided by and work within the Animal Welfare Act and Health and Safety at Work Act, we are committed to providing caring and humane grooming, and considerate and safe working practice for grooming operatives. We do not therefore, undertake de-matting in any form. Matted areas will be clipped off as this is the least traumatic and most pain free way in which to deal with this for your dog. Combing out is limited to 5 minutes, anymore and this constitutes de-matting.
Prevention is of course better than cure, and advice on grooming tools and home grooming regimes to assist with coat care in between salon visits can be given by us to our clients. This then provides adequate ongoing maintenance to avoid the coat becoming an issue with matting and/or coat build up, for your dog, you and us!
Scheduling regular salon visits at appropriate and recommended intervals before coat issues of tangling, matting and coat build up arise. We can advise on what schedule of salon visits is best for your dog on considering its coat, temperament, lifestyle and home grooming regimes being undertaken.
Teeth Cleaning – we do not undertake teeth cleaning as I feel the salon is not the appropriate place to undertake this. To clean your dogs' teeth adequately this needs to be undertaken on a regular basis at home on a weekly basis. We are happy to advise our clients on the best way to clean your dog's teeth.
Please see Matting information here.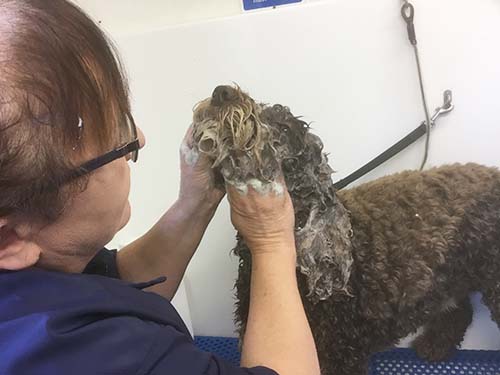 Puppy Grooming
With care from the professionals in Grantham
It is really important to acclimatize puppies to all sorts of new experiences outside of the home environment. I know this as I own and breed a longer haired, high maintenance breed. Many owners are surprised how early their puppy should attend a salon. When I raise a litter the puppies are put on a grooming table at 5 WEEKS OLD! This means that they are learning early on and therefore accept grooming, handling, nail and ear trimming. By 8 weeks of age when ready to go to their forever homes, my puppies stand on a grooming table on a noose, happy and confident to be groomed and handled.
Puppies should therefore attend the salon for an introductory groom as early as possible, preferably once they have completed their vaccination program. This is a reduced fee to puppies (£5 tiny, £15 small & £20 medium) between the ages of 12 to 16 weeks of age. Please bring your vaccination form with you.
This includes a big load of cuddles to give your puppy confidence in the new environment, bath and gentle blow-dry, nail and pad, hygiene and nose trim (to expose eyes), advice on grooming regimes and tools for your particular breed to help you give your puppy the best care.
Further puppy grooms booked on the recommended schedule are charged at a reduced adult rate until the puppy is 8-10 months old.
Grooming Tips
Helping to groom your puppy at home
Get your puppy accustomed to grooming. A home grooming routine has many advantages; quality bonding time with your pet, an opportunity to inspect your dog's coat and skin at close hand, plus keeping your dog looking good and reducing hair drop in the home.
Ask to be shown how to comb/brush your dog effectively and what tools are suitable for your breed.
Ensure your dog is restrained, under control and placed on a safe, non-slip surface for its grooming session.
Help maintain your dog's coat by regular grooming to keep it tangle and knot free. Use a detangling or conditioning spray to help when grooming.
Check in between pads on paws after walks for lodged stones or mud build up.
Remove debris from coat after walk, slicker brush out summer/autumn seeds/burrs and spot wash mud – a good time for checking for fleas and ticks too.
Towel dry after wet walks but remember to dab and scrunch dry not rub which will cause matting.
Maintain a regular salon grooming visit. This gives us the opportunity to develop a personal one-to-one relationship with your dog. We get to understand your dog's habits and quirks, and your dog learns to trust us and relax in our care. This has significant benefits with handling your dog during grooming sessions ensuring groom times are kept to a minimum.
Each breed & home grooming regimes can determine the time between appointments. The guide below has been advised by experienced breed specialist groomers.
4-6 weeks: Bedlington, Bichon Frise,
5-7 weeks: Cocker, Springer, Kerry Blue, Soft Coated Wheaten, Lhasa Apso, Shih Tzu, Maltese, Poodle – all sizes including any 'Oodle' cross breed mixes, Welsh & Wire Fox Terrier
8 weeks: Airedale, Westie, Cairn, Dandie Dinmont, Lakeland, Old English Sheepdog, Yorkshire Terrier, Schnauzer – all sizes
10-12 weeks: Golden Retriever, Setters, Collie
12-16 weeks: Pomeranian
As soon as puppy has completed its vaccination program. We are happy to see puppies for free between the ages of 12 to 16 weeks of age for an introductory groom.
A number of things need to be in place for successful grooming.
A safe place to groom your dog on a non-slip surface away from the floor. This shows your dog you are serious about grooming and is not in his play area (the floor).
Correct tools as noted below.
A collar and lead to control your dog and an 'on task' attitude. If your dog squirms away, a firm 'no' will show your dog that grooming will happen. Once the groom has been completed your dog can be rewarded with a treat. A consistent & repetitive approach is essential and will win eventually. Once a groom has been completed a treat can be given for a reward.
These can vary per breed but usually a soft slicker & combination comb are the two most useful tools for most hairy breeds. Your groomer can show you the best technique to use on your particular pet to ensure correct grooming.
When we are grooming your pet, we need your pet to focus on us as their handler so that we can build up a relationship directly with them. This becomes impossible if the owner is present as the pet will be naturally keen to pull towards their owners. Once owners have left we find pets settle much better which allows us to undertake the groom in a safe and relaxed manner and where your pet can enjoy the one-to-one interaction with their grooming mummy.
Terms of Business/Pricing
Fees vary according to size of dog, breed, coat type and length, presenting condition and regularity of salon visit.
It is the responsibility of the client/owner to notify salon staff at the start of every visit to the salon any coat, skin and medical condition, along with any behavioural issue that may affect the grooming of their dog.
If we are unable to complete the groom due to your pets unreasonable or dangerous behaviour, the full groom will apply.
Flea Treatment. Should we find fleas on your dog we will use insecticidal shampoo to prevent further infestation and an additional charge dependent on size of dog for this expensive specialist shampoo will apply.
Notice of cancellation/No show - We require 48 hours' notice for cancellation to allow re-booking of the grooming slot. Cancellations not advised or no shows will be subject to the full groom fee.